Post by Jiang on Jan 9, 2009 17:04:32 GMT -5
Time Period:
Three weeks after the events of TLK SP [Exact Date: July 4Th, 2043]
Ever since the Great War, a epic struggle between China, the Reborn Soviet Union, and the US-led Allies, shook the earth thirty years ago, Scientists at Saint Ivy's Advanced Medical Research Hospital have been searching for a means to restore life to the areas of the planet that the Great War had left unsuitable for most life. For three decades, they have been struggling to undo the lingering effects of the so-called 'Clean' Nukes each nation had used. For Three Decades, the devoted researchers had toiled away, hoping to give their Children's Children a hope for a better future, one where mutated plants, rad poisoning, and dead land were all things of the unspoken past.
Exactly three days ago, they discovered that thing, that so-called 'Cure'. It was called 'Pandora's Box', mostly because it was a box-shaped device that would, thanks to extremely advanced technology, 'Heal' their planet. The other, less discussed, reason for it's name is that they didn't really understand HOW or WHY it did what it did, or if it would have any side-effects on the enviroment outside their strictly-regulated Lab tests.
Despite protests and begs for more testing from the staff at Saint Ivy's, the UN demanded that it be used no later than July 4th; the US Holiday of 'Independence Day', and the international V-R day, or 'Victory over the Reds', the day the free world claimed victory over the communist forces of China and Soviet Russia.
And so, the device was immediatly sent via VTOL Transport to Africa, where it was hauled directly to Kenya. It was promptly attatched to the Fusion Reactor powering the city of Nairobi, and then the scientests, under the watchful eyes of a garrison of over a thousand UN Troops, 'Opened Pandora's Box' at 11:34 PM, July 3rd, 2043.
They had predicted that the machine would save earth from the Radiation Poisioning, and restore all life mutated by radiation to it's original genetic blueprints.
Well, Pandora's Box did just that. But it also had some extremely unexpected and unpleasent side effects for the Human Race.
As the wave of energy emmited by the 'Box' swept across the earth, every human touched by it, with the exception of a few lucky souls tucked inside fallout shelters and other locations as a precation, was undone, and literally vanished into thin air.
The effects upon the animals were much, much different. The human DNA picked up by the energy wave melded with the genetic code of many animals, changing them immensly. [Some animals, such as birds and aquatic creatures, along with the 'dumber' animals such as oxen, cattle, sheep, chickens, and so forth, were left unchanged.]
Nowhere else was the change so sudden and dramatic as the Pride Lands.
When the animals of the Pride Lands awoke the next morning, they were greeted by what was, to them, immensely bizzare changes to their own bodies.
Zebras, Cheetahs, Lions, hyenas, gazelles, antelope, they were all affected, and so were many others. They were changed into something humans once called 'Anthromorphs', or 'Anthros', or, sometimes, 'Furs'.
And now, with their world mostly turned upside-down, they have to not only scramble for clothing, but also cope with the changes to their world.
[Now, for
TEH RULZ!
Rule 1: No God-Modding! If God-Modding is needed to advance the plot, say, when a RP'er who's tied up with everyone just disappears, then we can god-mod past that little roadblock.
Rule 2: Fights are to be done fairly and realistically. IE: No Gun-Kung-Fu, if your char uses guns. Why not? Because it's impossible, period. You'd be riddled full of holes if you tried it, and die looking like a fool. Another example is: No cubs beating up adults. It just won't happen unless the adult is somehow rendered helpless, say, with drugs or a tazer.
Rule 3: Magic is allowed! Yay! Just insanely powerful magic, just a fireball spell or a healing spell here and there. And no reviving the dead or raising armies of ghosts, etc, etc, you get the picture.
Rule 4: For chars, mythical beasts, dragons, and made-up critters are not allowed. Pretty much everything else is allowed.
Rule 5: As for tech and gear, anything goes. Just no wildly futuristic stuff. [Wildly futuristic=Teleporters, insta-death-beams, superweapons, interstellar space ships, you get the idea.]
Rule 6: As for canon chars, if you play one, you can not have that character fall in love/romance/whatever with another character you play. It ain't fair to the rest of us, because you can essentially god-mod your way to that character doing whatever you want.
Rule 7: And, finally, our last rule. I would like those of you taking canon chars to be able to devote a fair amount of posts to the RP. It's no fair that this should die just because the canons are never around. [And, also, I'd like the people taking canon chars to be fairly literate. I'm not talking OMG-you're-a-amazing-writer type skills, since that'd rule pretty much everyone out including me and it wouldn't be fair. I'm just asking for understandable and legible posts.]
Note: I created this RP just for fun. If you don't like it, want to whine about the tech or premise, or just about anything else about it, just don't post here. Thankies!]
Also, for those of you who do not know what a Anthro is, here's a image of an anthro version of Kovu!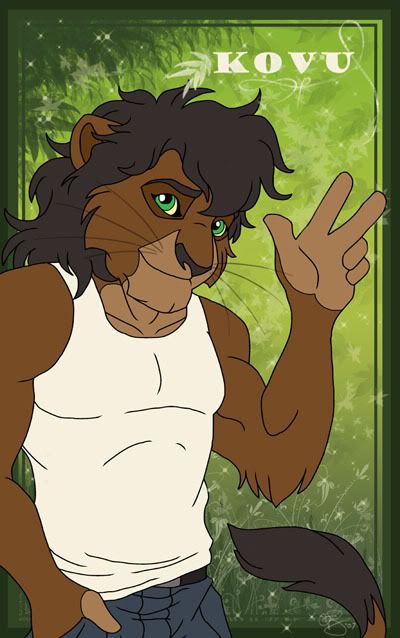 Canon Characters:
Simba: Open
Nala: Open
Kiara: Open
Kovu: Open
Vitani: lillanix
Zazu: KiaraRules~*Draco's Girl*~
OC's:
Amani: KiaraRules~*Draco's Girl*~
Damu: lillanix
Jamall: Jiang